NEWS
Mon, 20-Jan 08:44am
Update to bids and exchange status colors
Outbid -> Outbid
Cancelled -> Cancelled
Expired -> Expired
Thu, 16-Jan 09:01am
Advertisers now have control of auto ads
It's now possible to toggle auto ads to OFF on my account ads page.
Your ads will stop displaying automatically on all available slots.
You can toggle it ON/OFF at any time.
Mon, 23-Dec-2019 09:32am
Merry Christmas and Happy New Year
Comicad Network wishes you happy holidays.
This year, it's been quite a journey, one year ago this site was just an idea, since then, it's been a daily non-stop effort, and next year the journey continues...
Sun, 22-Dec-2019 01:18pm
My Account update
It's now possible to sort each individual column on ads, bids and exchanges lists.
New search input for ads page.
Search input bug fixed.
Ads list is now descending by default.
Tue, 17-Dec-2019 12:35pm
Account Landing page statistics
Again a new update for account landing statistics.
Now is possible to get two lines on the charts by using the toggle links below the charts, a blue one is the statistics from targeted ads (bids/exchanges), the green one is from auto ads (ads that automatically display on free slots across the network).
Default mode is the sum of both (a single blue line).
Fri, 13-Dec-2019 04:30pm
Smackjeeves
Smackjeeves no longer offers custom templates, thus it's not possible to place custom ads there anymore.
The users that have smackjeeves publisher sites will have to update the main url to an alternative location in order to continue serving ads.
The advertisers with ads pointing to smackjeeves may have more luck because the redirects from the old addresses seem to be working, so no action is required.
Sat, 23-Nov-2019 10:03am
Account Landing page statistics
Auto ads are now included in 4 of the 6 quick statistic charts of account landing page.
Charts now reflecting auto ads are "impressions", "views", "clicks" and "CTR".
Those charts now display the sum of targeted and auto ads.
Thu, 17-Oct-2019 06:55pm
Alternate Urls: one month later...
Unfortunately alternate urls permission wasn't set for regular users (despite we have announced it one month ago).
They are now available for all users.
We're really sorry for the inconvenience.
Tue, 17-Sep-2019 01:05pm
Introducing ALTERNATE URLS
A new option has been added to the sites section called Alternate URL(s). Once your main website has been approved, you can edit it and now see a tab called "alternative urls."

Alternate urls allow your site's unit codes to run on other urls referent to the same comic/product/service.
Please note that sites like Tapastic and WebToon do not allow users to host ads on their pages...yet! ;)
You may submit several urls at once for approval.

Once approved, your ad units will run on your main-site(dot)com and your alt-site(dot)com. Be sure to add your ad unit codes to your alt site's html too.

You can have up to 2 alt urls for each main website you add in the sites section. We hope you enjoy this new option.

Tue, 10-Sep-2019 12:44pm
Comic profiles information bar has been improved
Now with a more straightforward approach, the information bar includes the content that was hidden before, such as the last 7 days chart and the current month statistics.
Available on the site and ad unit profile pages.
Mon, 26-Aug-2019 03:06pm
COMICAD.NET Info Card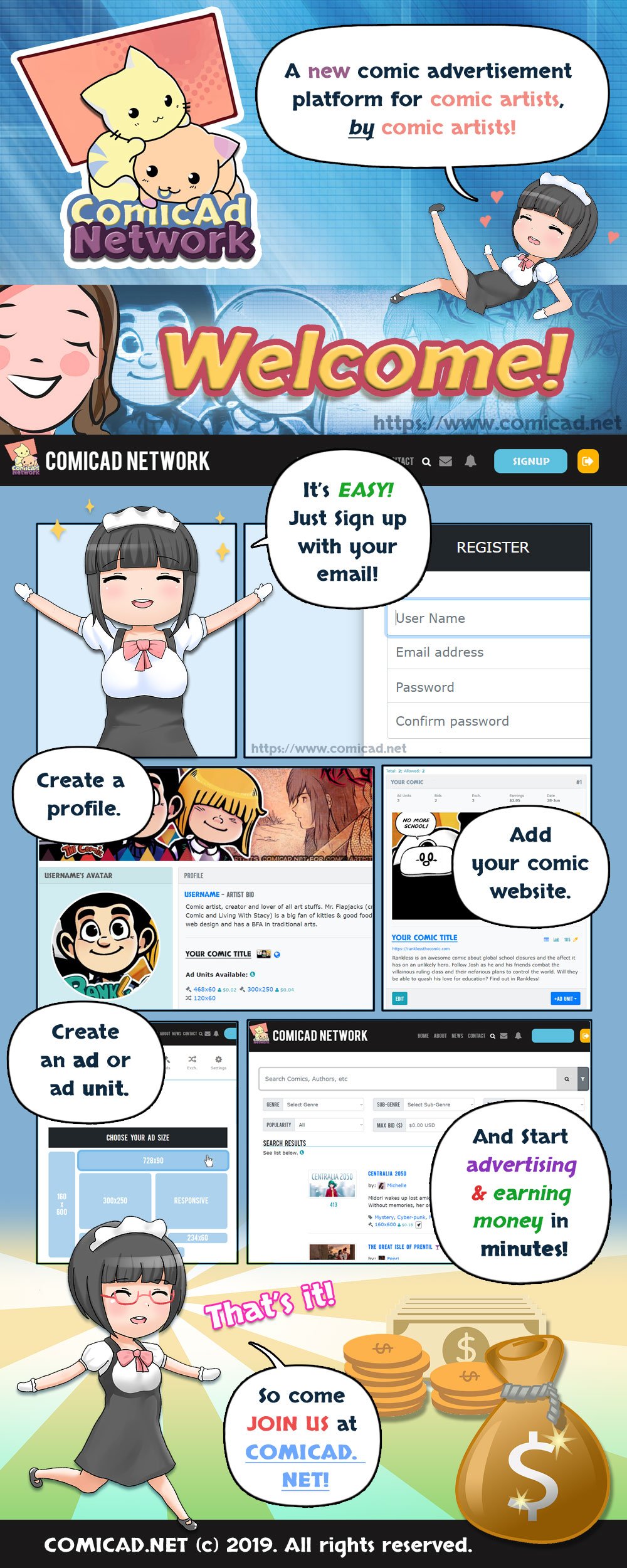 Fri, 23-Aug-2019 10:30am
Ads now display on all Comic Fury alias urls
Comic Fury provides several alias urls for every comic hosted with them:


*.cfw.me, *.webcomic.ws, *.thecomicstrip.org, *.the-comic.org, *.thecomicseries.com
Despite you choose only one, all the other domains are available for that given comic.
Now ComicAd Network ads display automatically on any of the domains specified above, as long the registered domain at ComicAd matches one of the domains from that group and the name of the comic in the url is the same.
Example:
Registered url at ComicAd: "
mycomic.cfw.me
" will have ads run on any of the following urls:
"mycomic.cfw.me", "mycomic.webcomic.ws", "mycomic.thecomicstrip.org", "mycomic.the-comic.org", "mycomic.thecomicseries.com"
Thu, 22-Aug-2019 12:13am
Community Badge Award for 1 Million Ads Served.
Wow, we have reached our first milestone and it's all thanks to you, our users! We've hit 1 million ads served on comicad.net as of today. How exciting!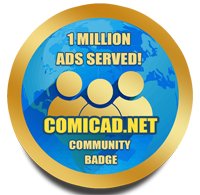 We'd like to award you all the
1 Million Ads Served Community Badge
. This badge is a milestone badge, which means it only happens once! It's also a community badge which is awarded to all our users that make up our awesome comic ad network. We hope you can help us reach more milestones! Keep up the good work and happy bidding!

Thu, 15-Aug-2019 02:42pm
Start as Outbid. Comicad.net website update! :)
Hello, we updated comicad.net recently and have enabled some new features. What are they you ask? Well, we'll tell you. Let's start with the most exciting.



Start as Outbid bids.
Users can now start a bid as an outbid. This means that you can now bid below the winning amount on ad units/slots in hopes to become the higher bidder later. Users can set a time frame like normal, then start a bid as an outbid by bidding lower than the winning amount. If the current highest bid expires, or is canceled, and your bid was the second highest, you'll become the highest bid and your ads will begin to run.

It's kind of like a bid in waiting. This way you can set bids and leave them be for awhile. Eventually you may be the higher bidder. It is still good to manually bid and beat bids by raising, or bidding higher than the current winning bid, but now users have even more options.

Keep in mind the minimum amount required to start a bid as an outbid is $0.01.

Other Updates
All other comicad.net updates are quality of life changes. Things that make the experience smoother, run faster etc.
Fri, 26-Jul-2019 12:06am
Comicad Network wants to hear from you!
Hello comicad network users! As you know we are a brand new comic advertising network. Emphasis on the new, which means we are growing more and more each day. More users, more ad types, and more features. Sometimes there may be a feature that our users would like to request, or an issue that pops up. Well, don't hesitate, contact us asap and we'll see what can be done about it! Simply put--

We would like to hear from you!

So if there is a feature you'd like to see on comicad.net, a glitch or bug you found, a frustrating limit of some kind, or anything of that nature, feel free to get in touch with us. You can report a glitch here or contact us on our contact page.