Latest News

Thu, 27-Jun 01:29pm
Welcome to COMICAD.NET
Hello comic creators and publishers! Welcome to comicad.net, an ad network catered to advertising comics around the web! Our mission is to fill the hole that Project Wonderful left when it closed, while also being more user friendly and fun. Simply put--


COMICAD Network is for comic artists, by comic artists.

Comicad.net was created by the authors/comic artists of
Rankless the Comic
and
Magnifica.
To learn more about COMICAD.NET check out the
About
section.
So stay awhile, and listen. We hope you enjoy your time with us!

----------------------
Update notes:
1. Alternate URLs added
2. Stats Bar has been improved
3. Comicad.net Info Card
4. Ads now display on all Comic Fury alias urls
5. Start as Outbid option added
Tue, 17-Sep 01:05pm
Introducing ALTERNATE URLS
A new option has been added to the sites section called Alternate URL(s). Once your main website has been approved, you can edit it and now see a tab called "alternative urls."

Alternate urls allow your site's unit codes to run on other urls referent to the same comic/product/service.
Please note that sites like Tapastic and WebToon do not allow users to host ads on their pages...yet! ;)
You may submit several urls at once for approval.

Once approved, your ad units will run on your main-site(dot)com and your alt-site(dot)com. Be sure to add your ad unit codes to your alt site's html too.

You can have up to 2 alt urls for each main website you add in the sites section. We hope you enjoy this new option.

Tue, 10-Sep 12:44pm
Comic profiles information bar has been improved
Now with a more straightforward approach, the information bar includes the content that was hidden before, such as the last 7 days chart and the current month statistics.
Available on the site and ad unit profile pages.
Mon, 26-Aug 03:06pm
COMICAD.NET Info Card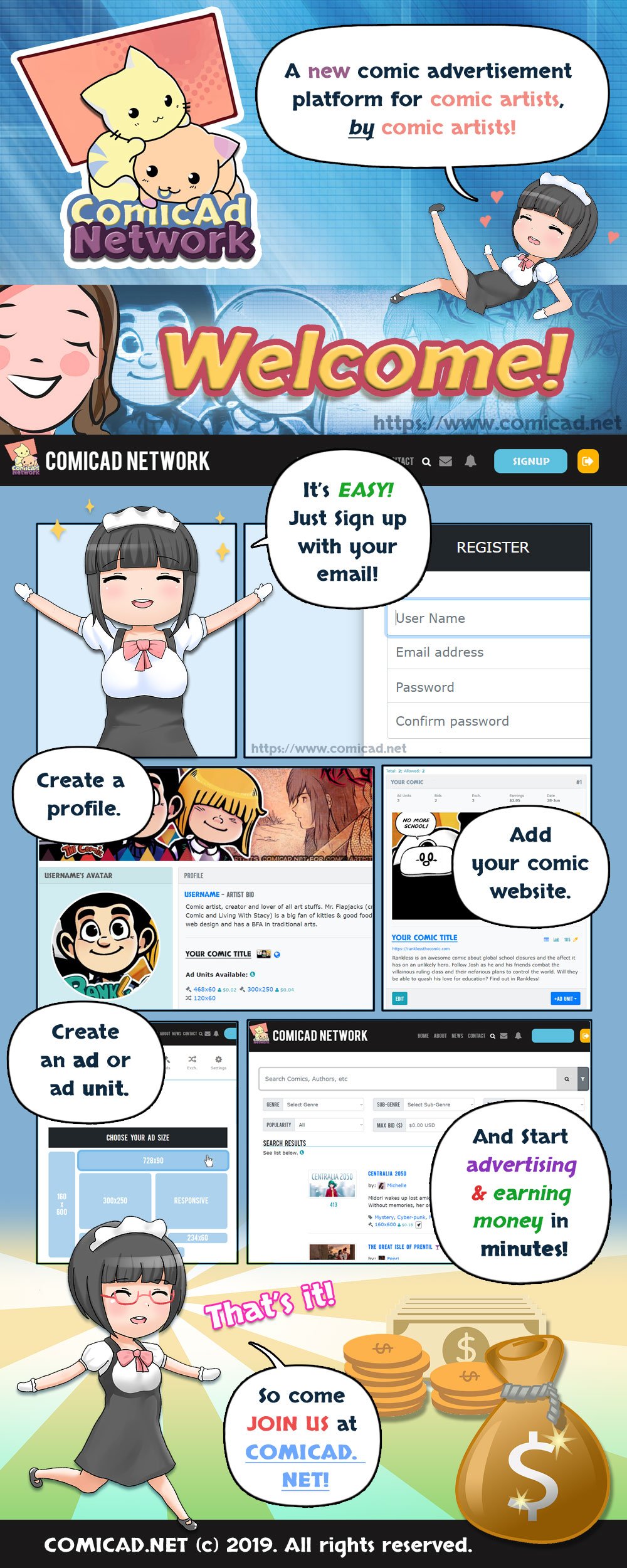 Fri, 23-Aug 10:30am
Ads now display on all Comic Fury alias urls
Comic Fury provides several alias urls for every comic hosted with them:


*.cfw.me, *.webcomic.ws, *.thecomicstrip.org, *.the-comic.org, *.thecomicseries.com
Despite you choose only one, all the other domains are available for that given comic.
Now ComicAd Network ads display automatically on any of the domains specified above, as long the registered domain at ComicAd matches one of the domains from that group and the name of the comic in the url is the same.
Example:
Registered url at ComicAd: "
mycomic.cfw.me
" will have ads run on any of the following urls:
"mycomic.cfw.me", "mycomic.webcomic.ws", "mycomic.thecomicstrip.org", "mycomic.the-comic.org", "mycomic.thecomicseries.com"