NEWS
Fri, 23-Aug-2019 10:30am
Ads now display on all Comic Fury alias urls
Comic Fury provides several alias urls for every comic hosted with them:


*.cfw.me, *.webcomic.ws, *.thecomicstrip.org, *.the-comic.org, *.thecomicseries.com
Despite you choose only one, all the other domains are available for that given comic.
Now ComicAd Network ads display automatically on any of the domains specified above, as long the registered domain at ComicAd matches one of the domains from that group and the name of the comic in the url is the same.
Example:
Registered url at ComicAd: "
mycomic.cfw.me
" will have ads run on any of the following urls:
"mycomic.cfw.me", "mycomic.webcomic.ws", "mycomic.thecomicstrip.org", "mycomic.the-comic.org", "mycomic.thecomicseries.com"
Thu, 22-Aug-2019 12:13am
Community Badge Award for 1 Million Ads Served.
Wow, we have reached our first milestone and it's all thanks to you, our users! We've hit 1 million ads served on comicad.net as of today. How exciting!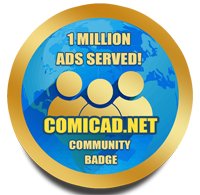 We'd like to award you all the
1 Million Ads Served Community Badge
. This badge is a milestone badge, which means it only happens once! It's also a community badge which is awarded to all our users that make up our awesome comic ad network. We hope you can help us reach more milestones! Keep up the good work and happy bidding!

Thu, 15-Aug-2019 02:42pm
Start as Outbid. Comicad.net website update! :)
Hello, we updated comicad.net recently and have enabled some new features. What are they you ask? Well, we'll tell you. Let's start with the most exciting.



Start as Outbid bids.
Users can now start a bid as an outbid. This means that you can now bid below the winning amount on ad units/slots in hopes to become the higher bidder later. Users can set a time frame like normal, then start a bid as an outbid by bidding lower than the winning amount. If the current highest bid expires, or is canceled, and your bid was the second highest, you'll become the highest bid and your ads will begin to run.

It's kind of like a bid in waiting. This way you can set bids and leave them be for awhile. Eventually you may be the higher bidder. It is still good to manually bid and beat bids by raising, or bidding higher than the current winning bid, but now users have even more options.

Keep in mind the minimum amount required to start a bid as an outbid is $0.01.

Other Updates
All other comicad.net updates are quality of life changes. Things that make the experience smoother, run faster etc.
Fri, 26-Jul-2019 12:06am
Comicad Network wants to hear from you!
Hello comicad network users! As you know we are a brand new comic advertising network. Emphasis on the new, which means we are growing more and more each day. More users, more ad types, and more features. Sometimes there may be a feature that our users would like to request, or an issue that pops up. Well, don't hesitate, contact us asap and we'll see what can be done about it! Simply put--

We would like to hear from you!

So if there is a feature you'd like to see on comicad.net, a glitch or bug you found, a frustrating limit of some kind, or anything of that nature, feel free to get in touch with us. You can report a glitch here or contact us on our contact page.
Wed, 24-Jul-2019 12:48pm
AD Sizes
Creating an AD is easy on comicad.net. Simply click on the "create an ad" link from our homepage, or go to the "ads section" in your user account. Users must be logged in to create ads.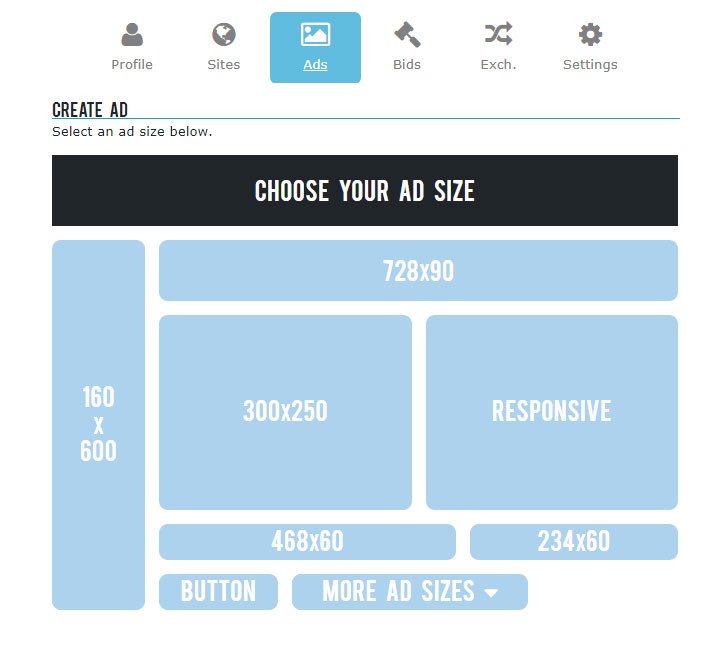 Expect all the formats you know and love like the 160x600 skyscrapper, banner and button ads. We also have a new responsive ad. Responsive formats stretch to 100% width of an HTML DIV container. This means it can be set at a custom dimension, no restrictions. Watch out, sometimes a responsive ad can be very large, depending on the location it's placed in. Feel free to contact us if you need any help with ad sizes.

Mon, 15-Jul-2019 12:15pm
Did you know about badges?
Users can earn badges to display in your public profile and user account page. These badges act like achievements and are awarded when certain conditions are met. There are plenty to earn, even some really oddball ones.

Can you get them all?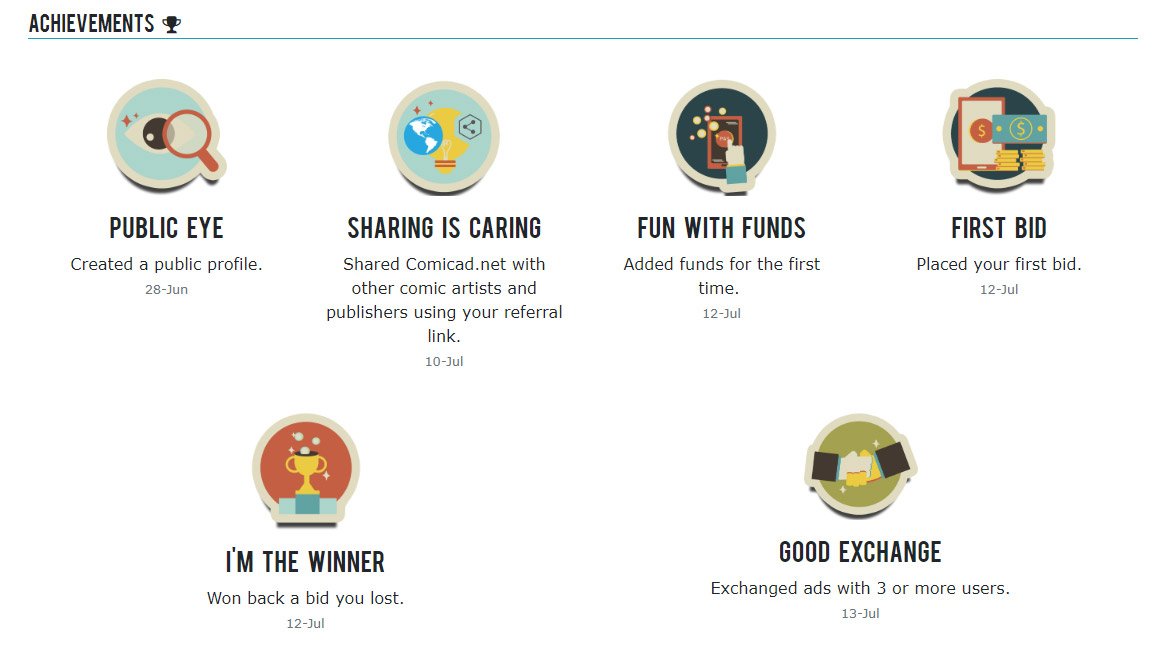 Sun, 14-Jul-2019 10:20pm
Note from developer
This website system is brand new, it's a big pile of code, so there might be some issues floating around.
I ask a little of patience if you see any error on the page. Please use the contact to report it.
The balances are not affected, so it's more statistic counter errors, outdated units and some missing quota transactions (hopefully solved by now).
I apologize for any inconvenience. Thank you for helping us test/improve it.

The developer.
Thu, 11-Jul-2019 08:58pm
It's FIXED! :)
EDIT: The issue has been resolved! Thank you for your patience and understanding!

Hello everyone. It has come to our attention that there is a Paypal email issue when adding funds. When a user uses a secondary email address instead of their primary paypal email address, it can cause an issue where the user's balance is not correctly updated with the funds.

We are working on this issue, and have temporary disabled the "add funds" page for a short period of time. This will not affect anyone who has added funds already and those users can continue to bid. We will post an update when the issue is fixed.

Thank you all for your patience and understanding.

Fri, 28-Jun-2019 03:34pm
What are AUTO-ADS and AUTO-BIDS?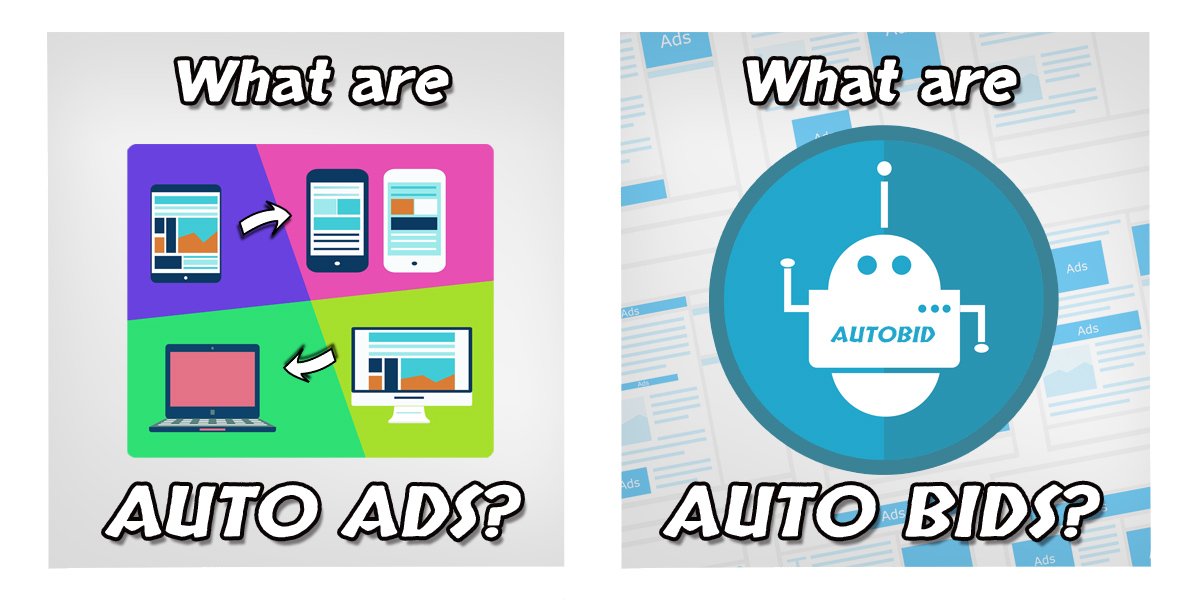 AUTO ADS
Auto Ads are free ads that can run when a user sets their ad slot(s) to "$0.00." By default, all ads are eligible for being displayed automatically on available free slots across the network. Users must have created at least one ad in their account in order to be apart of the auto ad rotation.

AUTO BUTTON BIDS
There are two methods for bidding/exchanging:

The main search/user profile "Auto" buttons: bid/exchange with just two clicks.

The "comic profile" page: Reach this page by following the links on "main search", "user profiles" or "main page", and fill the form in order to bid/exchange.
The main difference between the two methods is that auto buttons will choose one ad for you (the most recent), on the other hand, by using the form, you can choose the ad yourself. As long you don't want to choose a different ad/amount/period, auto buttons will do. You can configure auto button values/behavior on your profile settings.
To learn more about
auto-bids
and
auto-ads
, please read the
USER GUIDE
.
Thu, 27-Jun-2019 01:29pm
Welcome to COMICAD.NET
Hello comic creators and publishers! Welcome to comicad.net, an ad network catered to advertising comics around the web! Our mission is to fill the hole that Project Wonderful left when it closed, while also being more user friendly and fun. Simply put--


COMICAD Network is for comic artists, by comic artists.

Comicad.net was created by the authors/comic artists of
Rankless the Comic
and
Magnifica.
To learn more about COMICAD.NET check out the
About
section.
So stay awhile, and listen. We hope you enjoy your time with us!

----------------------
Update notes:
1. Rebid Button, New Bids, Exchange & Notification settings
2. Alternate URLs added
3. Stats Bar has been improved
4. Comicad.net Info Card
5. Ads now display on all Comic Fury alias urls
6. Start as Outbid option added